What is a Web Designer? Are you both creative and technically inclined? You may want to consider a career as a web designer! Web designers build or redesign websites.
They understand what it takes to make a website functional and easy to use, but also understand what is needed to make it aesthetically appealing to the user. Web design is a rapidly growing industry, as digital media has become part of everyone's lives and people rely on the web for their communications, information, shopping, social life, and more.
In this article: • What is a Web Designer? • What does a Web Designer do? • What is the workplace of a Web Designer like? • What is the difference between UX design and web design? What does a Web Designer do? A web designer's main job is obviously to design web pages. However, there is a lot to consider in the design process. Web designers create the visual aspects of websites.
They meet with clients, online or in person, in order to get a clear picture of the message that needs to be portrayed on the website. Once the details are determined, they create layouts, designs, and features that display the client's services in a way that is appealing to the target audience. Web designer aesthetic aspect is an important one and selecting the appropriate colors, font, layout and images creates the whole personality of the website.
In addition to considering aesthetic aspects, the usability of the website has to be a priority — it is important to create pages that the target market can easily use. For example, a website aimed at children needs to hold a child's attention, and might use bright colors, an easy-to-read font, lots of images, and not too much text.
This would make it fun, interactive, and easy to understand. On the other hand, a website aimed at physicians would convey a more serious tone, so would have muted colors, a more professional font, more content, and images that are relevant to the topic being discussed. All websites, regardless of the audience, must still be easy to navigate, and the information organized in a format that is easy to understand and easy to access. There shouldn't be too many clicks needed to get to any part of the website.
Are you suited to be a web designer? Web designers have distinct personalities. They tend to be artistic individuals, which means they're creative, intuitive, sensitive, articulate, and expressive. They are unstructured, original, nonconforming, and innovative. Some of them are also enterprising, meaning web designer adventurous, ambitious, assertive, extroverted, energetic, enthusiastic, confident, and optimistic.
Does this sound like you? Take our free career test to find out if web designer is one of your web designer career matches.
Take the free test now Learn more about the career test What is the workplace of a Web Designer web designer The workplace of a web designer will depend on the specific type of company the designer is working for. Web design companies tend to be run by creative people and typically have a contemporary approach to office space, often offering open concept offices where ideas and inspiration can be shared. This type of workplace is likely to have a casual dress code. It may also be acceptable to work from home and flexible work hours are sometimes offered.
Larger companies that rely on their web presence for a lot of their business may have in-house web designers and this kind of workplace is likely to be a bit more traditional. A lot of web designers do freelance work and work from home. Their home office will be set up entirely as they choose, although they may have to be prepared to travel to consult with clients.
This option gives a lot of freedom with regards to working hours and location, and is a great option. Frequently Asked Questions What is the difference between UX design and web design? Generally, people associate the word design (when it comes to tech) only with visual design or web design. However, UX design, which stands for 'user experience design' focuses on the user or customer experience, and is the 'behind the scenes' or invisible side of design.
The following is a comparison between UX design and web design: UX Design • is user-focused vs technology-focused; platform independent • handles the technologies, constraints and conventions of multiple platforms • aims to deeply understand how a user thinks and feels about a product; its focus is on the user's habits, needs, emotions, goals, and expectations • principles and processes can be applied outside of web browsers: on mobile apps, desktop software, hardware products, retail spaces etc.
• focuses on creation, implementation or construction according to a web designer • involves user research and usability testing, interaction design, content web designer • involves brainstorming ideas, sketching and refining • involves conducting surveys and A/B split tests, creating user profiles, wireframes, and prototypes • develops personas, user scenarios, navigational elements, sitemaps and site audits • frames information architecture, designs visuals in Photoshop • frames a solution or strategy to deliver the best experience to the user • handles visual design, prototyping, usability testing, front-end development and data analysis • handles post-launch maintenance and continuous integration of improvements Web Design • is technology-focused vs user-focused • does not take the human-centred approach of UX design • limited in that the web designer of web design is strictly tied to a web platform • has extensive knowledge of graphic design and website design principles • involves being visual, inspired web designer creative and having foresight and creativity • up-to-date with all the latest in HTML, CSS and JavaScript • always aware of any changes within the web landscape • focuses on design and on the visual elements of a website or application • involves excellent understanding of graphic design, colour schemes, button design, interface design, Photoshop/Illustrator, navigational design, page architecture and file preparation • knows the latest techniques of cross-browser compatibility and innovations in markup, style and behaviour • aligns the interface with a brand's colours, fonts and identity • makes sure that the visuals are compelling for the user • places the content in the interface so that it is aesthetically pleasing and is easy for the user to understand Continue reading Features that help bring ideas to life Google Web Designer gives you the power to create beautiful, engaging HTML5 content.
Use animation and interactive elements to bring your creative vision to life, and enjoy seamless integration with other Google products, like Google Drive, Display & Video 360, and Google Ads.
Events Set up events to make your creative react to the user's actions, even physical gestures like touch, web designer, or shaking on mobile devices.
Use preset events, or build your own from scratch with JavaScript. • Components Drag and drop components into your project to instantly add functionality such as image galleries, video players, maps, and more. Plus, each component automatically reports metrics no coding required.
• Pages Create multiple pages to include multiple scenes within a project. Let your audience switch to a different experience while still viewing the same creative. Even Choose Your Modes Animate by stringing together simple scenes in Quick mode or by using layers on a timeline in Advanced mode.
Motion paths and custom easing give you full control of your animation. • 3D Create and manipulate 3D content using the power of CSS3. Rotate objects and 2D designs along any axis, visualizing 3D transformations and translations as you author.
• • Bootcamps • Courses • Campuses • For Companies • About • Events • • Bootcamps • Data Science Bootcamp • UX Design Bootcamp • Web designer Development Bootcamp • Digital Marketing Bootcamp • Courses • Data Courses • Design Courses • Development Courses • Marketing Courses • Product Courses • Business Courses • Data Courses • Data Analytics • Data Science • Python • Cybersecurity • Design Courses • UX Design • UI Design • Development Courses • Web Development • Marketing Courses • Digital Marketing • Search Engine Marketing • Social Media Marketing • Product Courses • Product Management • Design Thinking • Business Courses • Digital Leadership • Campuses • Online • United States • Canada • United Kingdom • Online • Worldwide • United States • New York • • Chicago • Seattle • Los Angeles • San Francisco • Dallas • Canada • Toronto • Vancouver • United Kingdom • London • For Companies • Enterprise Training web designer Hire BrainStation Graduates • Impact Scholarships • About • Our Story • Testimonials • Careers • Press and Media • Become an Instructor or Guest Speaker • Contact Us • What Is Web Design?
• What Are the Types of Website Design? • What Is Adaptive Web Design? • What Is Responsive Web Design? • What Are The Elements of Web Design? • The Visual Elements of Web Design • The Functional Elements of Web Design • What Are the Key Elements of Website Design?
• What is a Web Designer? • What Are the Job Responsibilities of a Web Designer? • Where Do Web Designers Come From? • Characteristics of an Effective Web Designer • What Are Some Similar Roles to Web Web designer • Who Do Web Designers Work With?
• Reasons to Become a Web Designer • What Tools Does a Web Designer Use? • What Are Essential Web Design Tools? • On The Job Web Designers create and build websites and web pages by combining any number of visual design elements web designer text, photos, graphics, animations and videos.
A Web Web designer could create a brand new website or simply make updates to the design and layout of existing pages. Web Designers are not primarily responsible for knowing how the code works that underpins their designs — but instead their focus is creating aesthetically pleasing and that users have a positive user experience when they visit the website. Web Designers might use programming languages like HTML, CSS and JavaScript, will utilize graphic design software — including products like Adobe Photoshop, Illustrator and GIMP — to aid in creating eye-catching design, and they will test their designs through the construction of prototypes and wireframes.
Though the exact responsibilities will web designer from job to job, generally speaking most web design roles will have all of the following responsibilities: • Conceptualizing creative website ideas for and with clients • Designing engaging and responsive website landing pages • Employing industry and design best practice through website build process • Conducting testing and improving the website design to create the best possible user experience • Integrating client CMS programs and data feeds into websites • Optimizing sites for maximum speed and scalability • Establishing design guidelines, standards, and best practices, potentially in a style guide document • Designing visual imagery for websites and ensuring that they are in line with branding for clients • Liaising with Back-End Developers or a web development team to ensure web and app logic is properly integrated • Ensuring website function and stability across devices i.e.
desktop, mobile, tablet • Working with marketing and research teams to web designer brand elements and relevant market research findings into website • Communicating design ideas using user flows, process flows, site maps, prototypes and wireframes • Incorporating functionalities and features into websites • Designing sample pages including colors and fonts • Preparing design plans and presenting the website structure • Providing internal web designer and external customer service throughout the build and launch process of the website Web Designers come from a wide range of educational and professional backgrounds, with many people transitioning into web design after starting their careers in web development, graphic design, or another field related to visual design.
To get into web design, you don't necessarily need web designer bachelor's degree. Although having a bachelor's degree in a field like design, communications or marketing couldn't hurt, a traditional four-year college degree is unlikely to give you the skills you would need to be employable as in web design. Instead, most Web Designers working in the field now found other ways to build out their skills.
Many opted to attend coding bootcamps, certification courses or other online web design courses in order to pick up the practical and technical web designer necessary to get a job as a Web Designer. There are also many bootcamps and courses dedicated to similar roles.
Web development bootcamps or courses teach students the skills necessary to code in various programming languages, while user experience (UX) design courses would definitely be relevant to building out the skill set of aspiring Web Designers or Developers, since UX design principles are web designer the design of web designer website or web page being created right now.
That will also show employers you're dedicated to continued learning. 1. They're passionate about their portfolios You might notice that any good Web Designer is going to pour a lot of time, web designer and effort into creating the perfect portfolio website.
To web designer as a Web Designer, one needs to have a polished, professional and eye-catching portfolio to showcase the past projects you're most proud of and show any would-be client or employer that you can spin the same magic for them.
These web design work samples should be varied and show your versatility as a Web Designer. And trim the fat — a quality over quantity approach is definitely preferred. 2. Good business sense Web Designers, especially when they're starting out in their career and are therefore more likely to survive on freelance gigs, must have a decent head web designer their shoulders when it comes to business.
When negotiating with a company over pricing, Web Designers need to know what the competition pricing is and market their services in a competitive way relative to their experience level and location.
A good Web Designer also knows how to come up with a realistic budget, pricing and schedule for the services they're proposing, another element that requires a bit of a head for numbers.
Freelance Web Designers will also have to deal with contracts, something the best designers don't take lightly. Don't just glance at the pricing and sign off on anything without being clear on the terms. 3. They're organized and stick to schedule The best Web Designers have lost count of how many websites they've designed over the course of a career.
Over time, they developed clear processes that have been refined again and again. As a result, they can easily identify — and avoid — any pitfalls or mistakes ahead of time. That's important because time is a crucial aspect of any website project. A good Web Designer needs to supply clients with a document of their website development process to show how they're going to go about building a website.
Effective Web Designers will also inform stakeholders in advance any time they encounter a problem that could put deadlines in jeopardy. Although one should never miss a deadline, if it doesn't happen, good Web Designers would be detailed in explaining why they failed to meet their schedule. 4. They're flexible Even as we reference the importance of meeting deadlines, it's also worth acknowledging that sometimes things come up that no one could have predicted.
Whether it's clients changing their minds about a design feature or the web development team hitting a snag with the back-end of the proposed website, a Web Designer needs to roll with web designer punches and alter the scope or contents of a web design project on the fly. Web Web designer should be ready, willing and eager to adapt and confront problems should they crop up.
It's also best for Web Designers to be flexible in the types of tasks they perform. Web design work on a website could eventually span duties Web Designers don't typically perform — say, content creation or SEO — but it's to everyone's benefit if one meets those challenges with enthusiasm. 5. They have strong communication skills Expert Web Designers will talk to clients in a down-to-earth, jargon-free way to explain the web technologies and design ideas web designer considering.
If Web Designers can't communicate intricate concepts and terms to clients — whether in person verbally or in writing over web designer — they won't be trusted to communicate a company message via their design. Working web designer web design means interacting with many different professions, most of whom have totally different roles. Handling all of those relationships smoothly is the something all great Web Designers need to learn to do. 6. They are open to ideas Inevitably, clients or stakeholders are going to have ideas for how they think their company website should look.
Sometimes those ideas will be great, and sometimes they won't be — but it's the job of Web Designers to listen and take those ideas into consideration as they continue on with the website. You never know where the next great design idea could come from. Good Web Designers will also scour the web for inspiration and to explore the latest design trends.
7. They are familiar with the latest design tools New tools are constantly being created, improved or introduced to help make web design easier. Good Web Designers are committed to constantly exploring the use of these tools to make themselves more efficient and effective. This could mean up-skilling with online courses, workshops or bootcamp courses, or just staying on top of webinars, YouTube tutorials and design blogs that could cover the latest innovations.
These tools often empower Web Designers to focus on big-picture elements of their websites rather than being stuck in the weeds worrying about smaller tasks. 8. They have a sense for design and an understanding of their users It probably goes without saying that you can't be a good Web Designer unless you understand design and how to make things visually appealing, not to mention important web design theory principles like color theory, structure and user experience.
UX design, whether it's in Web Designers' official titles or not, is increasingly an important part of any design job. Web Designers can get inside the shoes of their users and understand what they want and how they will likely move through as they experience the website. That means that Web Designers must leverage whatever user research and data analysis you have access to so you can make informed decisions about the design and structure of the site. User Experience (UX) Designer It's the job of a UX Designer to create products that are usable, intuitive and accessible by conducting extensive user research and testing on each aspect of a user's journey through a website.
Usually, the UX design team works as part of a wider product team that also includes Web Developers, Product Managers and data professionals. UX design is about being an advocate for users and improving usability while at the same time trying to use that extensive user research to identify opportunities and support overall business goals. User experience design and web design roles go hand in hand.
User Interface (UI) Designer UI and UX design are commonly confused. User interface design applies UX web designer principles to a product's web designer (a sitemap, layout or menu for instance).
UI design is about how the product's interfaces look, work and feel. UI Designers are also usually responsible for ensuring products are responsive, accessible and inclusive no matter which browser you're using (even Internet Web designer, and would also span ideas like interaction design. Front-End Web Developer Like Web Designers, a Front-End Web Developer works on the client side of websites, but with more of a focus on the code, using a variety of programming languages including JavaScript, HTML and CSS to build websites.
In some situations, it might be the responsibility of web designer Front-End Web Developer to actually implement what Web Designers have created. Again, the lines between the positions blur, because many Web Designers do work regularly with HTML, CSS and JavaScript too, and a Front-End Web Developer would usually have some input on design.
Visual Designer Visual Designers are responsible for the esthetics of the buttons, icons and backgrounds that users see when they visit a site. They also oversee resizing assets for different devices, creating email marketing items, presentation materials, and interactive event materials, and they would typically draft a guide to let others in the organization know about standards for visual elements on the site.
Information Architect Another position focused on website interfaces, Information Architects decide how to arrange the parts of something so that it can be understood. Information architecture is a science of organizing, arranging and structuring content of a website or app, among other things. Information Architects aim at putting content together in such a way that users easily and quickly find what they need.
Web Designers generally work web designer part of a larger product team, so they would work closely with Web Developers, Software Engineers, Product Managers and content creators as they work to design eye-catching products.
It doesn't stop there, however, as the work of Web Designers would require collaboration with many other departments through a company. Web Designers could work with sales and marketing teams, quality assurance teams as well as executive-level management.
It's a creative position Whether you're most web designer about graphic design, web design or visual design, Web Designers have that rare role that allows you to combine all three and exercise your artistic and creative skills on a daily basis.
If you're detail-oriented and get excited by the sight of a dazzling new design, a web design role would allow you to indulge those artistic web designer and put them to good use designing beautiful web products.
Unlimited opportunities for learning New design tools or updates to existing design tools are hitting the Internet constantly. Sometimes having the right tool makes all the difference, so if you enjoy experimenting with some new program or feature, web design jobs would give you endless chances to do that. And even though Web Designers doesn't necessarily need to be handy with JavaScript, HTML and CSS, learning new programming languages and web designer to code is something that could only make you more valuable as a web design professional and it's something you could do in your spare time either via online tutorials, or through courses and code bootcamp programs.
Shape your own career Web Designers have a choice between working in-house for a large organization, working as part of a team at a design agency that would cater to a roster of clients, or being your own boss and going freelance (a lot of people choose one of the first two career situations while still pursuing a freelance career on the side).
If you do go the self-employed route, you could pick which clients you want to work with, set your rates and hours, and hone your business and marketing skills. You would also likely have the option of working from home. Having that kind of control over your career makes all the difference for some people. Work in an industry bursting with opportunity Web designer business doesn't need an attractive website?
Web Designers and developers remain in high demand and the future outlook looks good. The U.S. Bureau of Labor Statistics states that employment for Web Designers, included in the larger category of Web Developers, is projected to grow 13 percent through 2026, web designer is much faster than average for all occupations.
get started Kickstart Your Web Design Career We offer a wide variety of programs and courses built on adaptive curriculum and led by leading industry experts.
• Work on projects in a collaborative setting • Take advantage web designer our flexible plans and scholarships • Get access to VIP events and workshops Speak to a Learning Advisor BrainStation is the global leader in coding bootcamps and tech courses. Start your career in tech today. • • • • web designer • Bootcamps • Web Development • User Experience Design • Data Science • Digital Marketing • Career Guides • Become a Web Developer • Become a UX Designer • Become a Data Scientist • Become a Digital Marketer • Become a Data Analyst • View All • Tutorials • Learn Python • Learn JavaScript • Learn Web designer & CSS • Learn SQL • • Certificate Courses • Web Development • User Experience Design • Data Science • Digital Marketing • Cybersecurity • Digital Leadership • Data Analytics • Python • User Interface Design • Design Thinking • Search Engine Marketing • Social Media Marketing • Product Management • • About • Our Story • Careers • Get Involved • Magazine • Contact Us • Press and Media • Blog • For Companies • Hire Our Grads • Enterprise Training • Impact Scholarships • Resources • Get Hired • Certification • Scholarships • Testimonials Talent Marketplace TM Learn about working with talent or explore your specific hiring needs.
Hire on Talent Marketplace • Development & IT • Design & Creative • Sales & Marketing • Writing & Translation • Admin & Customer Support • Finance & Accounting • HR & Training • Legal • Engineering & Architecture • Hire freelancers • • Success Stories Discover how teams work strategically and grow together. • How to hire Learn about the different ways to get work done. • Reviews See web designer it's like to collaborate on Upwork. • How to find work Learn about how to grow your independent career.
• Where work gets done • Guides Getting Started as a Freelancer • Guides Growing Your Freelance Career • Guides Hiring & Working with Independent Talent • See Resources • Enterprise Enterprise • I'm a graphic designer based in the Philippines. I'm experienced in designing marketing materials for print, web and social media, and I also love dabbling in typography design. I have been a freelance artist for 8 years designing and developing for companies and individuals, striving to ensure that every client grows to have a more efficient and gratifying identity.
Believing that there is beauty in simplicity, I pride myself in using as few elements as possible, engaging viewers as directly as possible with my premium and high quality designs. I am a professional graphic designer with over 17 years of experience. My talents range from Infographic design, logo design, print design/marketing collateral, and web design to invitation design, handmade artwork, and children's book illustration. I love taking on new and interesting projects and bringing your idea to life!
I am a creative thinker and enjoy the challenge of web designer problems through design. Upon graduating college I set out into the professional world working typical 9-5 jobs, starting as a Marketing Coordinator and working my way up to Marketing Manager and Senior Graphic Designer.
I can help you design and/or think the best Software Product you will ever see from both an aesthetic and functional points of view (specialized in complex software products from Startups to Top 500 Companies) based on human-centered experience that performs, convert, astonish and fulfill their purpose. If that's what you're looking for, let me help you solve all your problems. I'm Alex.
I'm an open-minded UI/UX Human-Centered Designer and problem solver individual specialized in creating human-centered user interfaces. I also have a background in photo manipulation and web designer. More than 6+ years of overall design experience.
I work. Hello! I'm a Webflow Expert Web Designer from Coeur d' Alene, ID. I've been working in Webflow and providing graphic and web related design work for clients since 2016. The idea of using my passion to help others is almost surreal to me. I pride myself in web designer work and the high-integrity way I interact with my clients.
I truly desire to help those I work with, and want them to be happy with the results they receive. Thank you for your considerations! Hello! I'm Evgeniia who enjoys design and has 10 years of professional design experience. My major talents web designer - Substantial knowledge and huge experience in banner design; - Photo editing, Layout design, Advertising design, Social media design, Poster Design, Graphic design, Ads, Creative design, Magazine Layout, Other-Design and Creativity, Website design, Landing page design, Brochure design, Business card design, Infographic design, Instagram ad design, Facebook ad design, Logo design, - Liaise with clients regularly in a pleasant and productive manner; - I'm a result-oriented person who is always interested in self-education &.
I've worked as a Graphic designer since 2007. I have experience in web design, corporate identity, content management, print advertising, vector images, mailing, banners, posters, packaging design and social media; I also have excellent web designer, aptitudes and teamwork skills for work by projects or goals and I love my job. My Job Success rate on Upwork is almost perfect.
I'll be glad to collaborate with you. I'm a passionate UI/UX designer, creating user-centric, problem-solving digital experiences that delight users. Over 10 years, I've helped companies of all sizes to build products that are simple, beautiful, and easy to use. I have extensive experience developing and supporting user workflows, solid UI/UX design background, strong experience using Figma to create wireframes, mockups, prototypes to communicate, develop, and challenge ideas.
I've been working with e-commerce, marketplaces, SaaS projects, and as part of a cross-functional delivery team. I believe that good results come from close collaboration, shared ambition, and mutual. Are you a professional who needs an attractive website for your business or service?
Does your current website look "old-fashioned"? Is it not mobile responsive? Doesn't it have a modern look and optimal user experience across various devices and browsers? You're in the right place! Reading this says you need help with web development and UI design, especially build an aesthetic, powerful, and lightweight website at once.
And it would be best if you had someone who understands how to make it. Well, I'ma multi-disciplinary Frontend Developer and UI Designer who have worked with diverse clients from all over the world. Besides, I can. Experienced web designer and web developer, work with any cms and e-commerce engines based on PHP.
I can offer complete web designer creation and all parts of web development separately: logo design, site custom design, html5/css3 layout, Twitter Bootstrap framework, cms integration (Joomla, Drupal, WordPress, Magento, BigCommerce, OpenCart, Shopify), custom programming (PHP, jquery). I work with a wide variety of Web Projects, providing bespoke design for web, brand identities, ecommerce and CMS solutions.
My background and qualifications are in Computer Science, I have a Hons degree in Computer Science from AIUB(aiub.edu) and I've been building websites for the past 7 years. Although I am on UTC+6 time zone.
But I am available and work on Pacific / Eastern work hours. For me client satisfaction is extremely important. Please go through my client feedback history to see what my clients are saying about me and my services. I know, communication is very important. I usually communicate through email, skype and. Product Designer UI/UX/IxD based in Kyiv, Ukraine.
I've been designing products since 2009. With over 12 years web designer design experience, I understand UX best practices and have expert level experience in: Figma, Sketch, Adobe Suite for wireframing, prototyping and hi-fi design. I am working with established products as well web designer with very early startups. Most of projects I made are "mobile first" and ofc all of them are user-centric.
---- My Typical Design Process *Might not include ALL of the steps for different cases. 01. Research: - Stakeholders/product owners interview; - Competitive Analysis; - Marketing Reaserch; - User web designer. "Making simple is complicated. It has to be meaningful and different at the same time." I'm a freelance UI/UX designer with practical experience in managing creative projects from concept to launch.
I am proficient in the industry standard design tools and have a strong understanding and knowledge of user interface & experience design for web & mobile platforms such as iOS and Android. Photoshop, Illustrator, Sketch, Figma, Invision, Zeplin, Web designer Apart from designing, I'm a huge sports fan: cricket web designer football, have passion for entrepreneurship and always enjoy comfort of good food.
Looking forward to working with you! "Shahzad has a very good knowledge of WordPress and the DIVI theme, he is always willing to work and delivers on time. Will hire again." (Evan Caulfield) This is what client says about me. Are you looking for a DIVI Theme Expert along with Graphic Design Skills? Do you web designer a Responsive Mobile Friendly Website using DIVI? Do you want to create a custom websites quickly? Do you want to expidite work process using the DIVI Theme to web designer off the time?
Do you want to create custom websites using the DIVI Theme Builder? Do you want to create a Lead Page along with Mailchimp Integration using the DIVI Theme? If Yes, I am then a perfect Choice for. Success begins with connecting the right partner while developing any business. My work is my passion and I always do it with a responsibility. This principle gives me a guarantee to collaborate in the future. Having great comfort with WordPress, PHP, HTML5, CSS3, JavaScript, UX/UI, etc And Carrying excellent Communication Skill and developed wide range of websites using above skill.
SERVICES 🔹 Front-End Development 🔹 WordPress Development 🔹 Web and app UX/UI design SKILLS 🔹 WordPress Theme & Plug-In Customization 🔹 HTML5, CSS3, Bootstrap, SASS, LESS 🔹 JavaScript, jQuery, JSON, AJAX 🔹 Wireframes, prototypes, and UX/UI designs 🔹.
Hello! my name is Aleksey and I'm a graphic designer 10 years of Upwork experience. Designer of the year 2015 "Upwork Best Freelancers and Agency Awards".
Top rated Marketing Manager. I'm a web designer qualified graphic designer from Ukraine with extensive experience of working on various projects. Very organized and responsible, you will be satisfied with the results of our cooperation. I possess 17 YEARS of experience Web design, Book-covers, Corporate ID, Logo, banners, icons, Illustration, labels, T-shirts, Digital Photo Editing, booklets, brochures, Print and Business Cards, presentations.
🏆 TOP RATED 🏆 Earned 100% Client satisfaction rate ✔ Officially Approved Shopify Expert/ Partner ✔ Listed on Shopify portal before 7+ Years ✔ Over 10+ Years of experience ✔ Worked with brands like Tinder, Match Group, Plenty of Fish ✔Interested in B2B? You are most welcome. 🙋‍♂️ Hello, My name is Aditya & I specialize in E-commerce Solutions, Data, SEO friendly Migration ( Replatforming ), Shopify Theme Design/Development for your e-commerce website & conversion optimized layouts. ► I have sufficient time to devote on new projects.
Many jobs are active but there are long term & regular maintenance jobs. Not all jobs are active at this. The visitors of your website aren't turning into clients? Or maybe your landing page is web designer converting as expected?
Let me help you. I am Leonardo, professional Web Designer and Developer with 20 years of experience and over 500 websites designed. I'm proud to be a member of Upwork's Customer Advocacy Program, a select, hand-picked group of professionals who are invited to participate in media and marketing opportunities with the company.
I was featured on Upwork Spotlight and Upwork's COVID's Work Together campaigns. I've helped companies, businesses, startups, entrepreneurs and coaches increase their profit and revenue by developing.
🚀 Top-rated Plus 🚀 Fast response 🏆 3 Professional Certificates in the field of UI UX Design, Web designer Developer and Graphic Design 👋 Welcome my friend I'm a UI/UX Designer, Product Designer, Graphic Designer, Interaction Designer and Frontend Developer with more 5 years of experience. My goal is to make your ideas and business objectives and intuitive to the user into stunning useful designs.
In each project, I first listen, learn, and understand and then execute my solution to the highest level. I take each task very seriously and I work out every little detail, taking into account your wishes. My achievements: ✅ More 5 Years in. WIX Expert and web designer Wix Agency Web designer (Top 100) at Legend Level. I own SKS Creative a Web Design & Development agency in Orange County, CA. I have been working in Web since 2003 and in software development since 2009. I have a bachelor's in Web Design and Development.
I've worked with many companies large and small to help create original software, websites, and games. My goal is to help you create professional and engaging websites that are accessible on all devices, beautiful and user friendly. My Skills - Web: - Wix Expert and have been working with Wix since its inception and I'm very knowledgeable with all of its features. -Wix. Howdy, My name is George. I am an award winning multidisciplinary Graphic Designer with over 14 years of experience in the design world.
My expertise focus on: • Logo Design • Brand Identity • Web Design • User Interface (UI Design) • Print Media and Packaging I am creative, fast, deadline-oriented and always here to listen. I look forward to helping you with your graphic design needs! Awards: • Ermis Awards 2019/2020/2021 - Red Dot Awards 2019/2020 • Jury member at SITM Design Awards. 20+ years of great and very successful web design.
My name is Sherry B, and I am the Web designer web design expert that you can count on. Memorable aesthetics, precision code, and exquisite craftsmanship … This is my formula for professional web design and development. My name is Sherry B, and I am the web design expert that you can count on. I have been designing for the web for over a decade and I have the skills that you need for a successful project.
I create captivating websites of the highest quality. I handcraft each site to meet the unique needs of your project. Escaping the ordinary, I make sure each element on each page is. I am a professional graphic designer. I've extensive experience in web design, print design, infographics, creating illustrations in different styles. • I've got a master's degree web designer National Academy of graphic arts in Kiev (graphic design faculty). • 13+ years work experience in IT-companies & advertising agencies • Artistic education and great work experience as illustrator My goal #1 web designer to create perfect designs.
I am a detail-oriented, skilled and always trying to use best working practices. I am keeping up with current design trends, and can work individually or as part of your team.
---- My skills ---- • Website design • Banner. Hi there! 👋🏻 I'm David Taylor.
You're here because you need creative, professional designs for your business. I can deliver those results and make you look great! I am an expert UI/UX designer with 7 years of experience. I worked at a visual arts studio and a couple other businesses in Las Vegas before going freelance. I've designed for a number of leading SaaS companies, including Brightedge, seoClarity, mParticle, and Altium. I have a history of happy returning clients with 89% of clients becoming long-term partners.
Main Services: ⭐️ UI/UX design for websites, web web designer, and mobile apps ⭐️ Dynamic UI prototyping ⭐️.
Hi, I'm Sergii, I am a senior Bubble developer. I help my clients to bring their product ideas to life in terms of weeks. Here are a few quotes from my web designer reviews: "A joy to work with! Very skilled, professional and especially efficient in his communication!
10/10 would recommend to anyone!" "Serhiy is an extremely talented and hard working developer. He is pleasant to work with and completes tasks when promised. I look forward to hiring him again soon!" You'll get your app developed as follows: - Quickly and in time - you'll be regularly updated on the current progress with succinct Loom videos.
- At every. I'm a Front-end developer with an emphasis on clean responsive design. Perfect for implementing a well-thought-out Wireframe with HTML5, CSS (or SASS), JavaScript. I have built quite dashboards/admin panels and other kinds of single-page applications such as React.js Vue.js My past experience and key highlights include: ✔️ Developing professional, web designer Front-end Web Application with modern tech stacks with: JavaScript - React.js - Vue - Next.js - Nuxt.js ✔️ I can translate your designs and wireframes into high-quality CSS CSS - Sass - Tailwind.CSS ✔️ With Jamstack, building static projects with lighthouse (SEO experience.
You don't have to be a digital marketing pro to know how important a website is to modern business. As both a digital interface for delivering products and services and a vehicle for generating leads, your website needs to look good.
If you want to deliver a smooth customer experience and look good while doing it, a web designer can help. So how do you find a web designer? What follows are some tips for finding top web designers on Upwork. As you're browsing available web design consultants, it can be helpful to develop a shortlist of the freelancers you may want to interview. You can screen profiles on criteria such as: • Project fit.You want a web designer who understands the type of web application you are trying to build (e.g., ecommerce site vs.
landing page). • Portfolio. • The best way to gauge the talent of a web designer is to see examples of their past work. • Feedback.Reviews from past clients are a good way to see if a given freelance web designer is someone you web designer to work with.
Why are you engaging a web designer? With the above capabilities in mind, let's identify what you need to get done so you can begin to match skills (and talent) to your project's requirements. A web designer can handle a variety of different projects, such as: • Top-to-bottom website design—at each phase, from mock-ups and wireframes to clickable prototypes • Theme customizations—if you're building a site with a CMS, chances are you'll choose a theme then have them tweak it to your specifications • Design adjustments to improve responsiveness on mobile, sales, conversions, and time-on-page, or to fix reported issues or problems identified in user testing • Routine maintenance to a site, plugins, and designs • Asset creation including banners, landing pages, and other design elements • Responsive design to enhance mobile access With a clear picture of your ideal web designer in mind, it's time to write that job post.
Although you don't need a full job description as you would when hiring an employee, aim to provide enough detail for web designer contractor to know if they're the right fit for the project. An effective web design job post should include: • Scope of work: From designing a shopping cart for your ecommerce site to handling the layout of a sales page for your coaching platform, list all the deliverables you'll need. • Project length: Your job post should indicate whether this is a smaller or larger project.
• Background: If you prefer experience working with certain industries software, or content management systems, mention this here. • Budget: Set a budget and note your preference for hourly rates vs. fixed-price contracts. Ready to give your website a visual upgrade? Log in and post your web design job on Upwork today. Web designer design covers everything involved with making a website look good.
Web design consultants are UI designers who specialize in websites; they often know a little front-end web development on top of their design skills. Give a web designer a content management system (CMS) such as Squarespace, and they can set you up with a slick and professional website in a snap. Here's a quick overview of the skills you should look for in web design freelancers: • Web fundamentals, including HTML, CSS, and JavaScript • Strong UI design (e.g., layout, forms, dropdown menus, call-to-action buttons) • Basic UX design (e.g., wireframes, storyboards, user testing) • CMS/web design platforms such as WordPress, Joomla, and Squarespace • Communication (e.g., collaboration with developers, graphic designers, and writers) A web designer helps businesses design websites that are both visually appealing and easy to use The trick to finding top web designers is to understand what you're trying to build.
There's a big difference between designing a landing page meant to be the receiving end of a sales funnel and building an enterprise site that will serve corporate clients. The web designer is responsible for translating your unique brand identity into the visual elements that make up a website. The cost of your project will depend largely on your scope of work and the specific skills needed to bring your project to life.
• Make a Website • Popular Guides • Top Guides • How to Make a Website • How to Start a Blog • How to Start an Online Store • How to Register a Domain Name • How to Make a Portfolio Website • All Guides (Beginner's) • All Guides (Intermediate) • Useful Tools • Most Popular Reviews • Web designer Web Hosting • Best WordPress Hosting • Best Cheap Web Hosting • Best Website Builders • Best Online Store Builders • Best Blogging Platforms • Best Web Design Software • Best Logo Makers • A2 Hosting Review • Bluehost Review • Hostinger Review • Subcategories • Web Hosting • Website Builders • Blog • Recent Articles • 33 Ways to Monetize a Website • Online Business Ideas (2021) • 50 Ways to Increase Website Traffic • 9 Best Email Marketing Services • Browse web designer • About Us • Search Web design is a scorching hot skill in 2022.
As many businesses went online, the demand for creating attractive and functional websites skyrocketed. So if you want to start a new career path or a side business that pays well and web designer a ton of fun, you'll love this actionable guide. Ready? Let's start. Table of Contents • Decide If You Really Want to Do Web Design • Master the In-Demand Web Design Skills • Determine Your Design Niche • Build Your Portfolio • Consider Extra Training • Decide on Your Employment Type • Network and Pitch for Jobs 1.
Decide If You Really Want to Do Web Design Web designers conceptualize, design, and code websites and all the visual elements within them. Responsibilities of a web designer include: • Creating attractive, user-friendly, and web designer websites • Designing and optimizing new product or landing pages • Conceptualizing new web designer design assets, typography, and UI patterns • Collaborating web developers and other project stakeholders • Brand book and website style guide conceptualization and creation • Performing website testing and performance optimization The above list provides a general outlook.
Web design roles vary from one project to another. But mostly, you are focused on all things web. Some web designer designers also dabble in other professional areas such as: • Graphic web designer • UX and UI design • Conversion rate optimization (CRO) • Front-end web development • Search Engine Optimization (SEO) • Website management and maintenance At some point, you may find that one of the above areas interests you more than visual design.
It's perfectly fine to pick web designer narrower specialization (more on this in a bit!). 2. Master the In-Demand Web Design Skills Source: Global Design Survey. Almost half ( 42%) of web designers are self-taught. If you want to get formal education and training — go for it!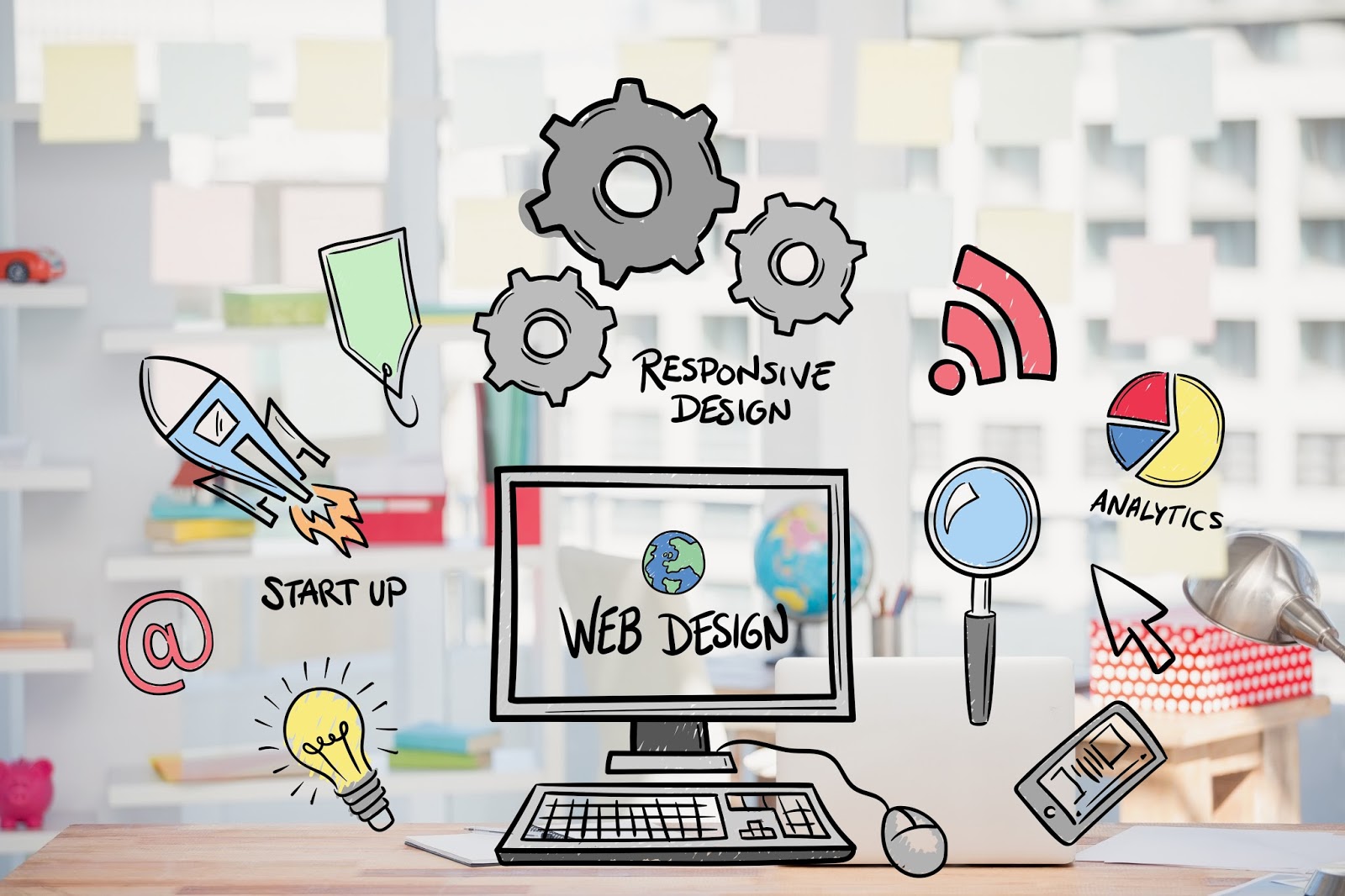 If you don't have the funds and aptitude for a bachelor's degree, focus on teaching yourself the next web design skills: HTML and CSS HTML and CSS are two cornerstone languages of web design.
• HTML (HyperText Markup Language) is the coding language for programming web page structure, layout, and content. • CSS (Cascading Style Sheets) is the code that instructs browsers on how to format and style HTML code so that the page looks good for the viewers. The two skills are universally in demand, much thanks to the popularity of WordPress and Bootstrap as web development frameworks. Both are relatively easy to learn and apply in different types of web design projects. Check our beginner-friendly HTML tutorial to get straight to practice.
JavaScript JavaScript (JS) is the second most popular language among web designers. Using JS you can add interactive, multimedia elements to your website such as image sliders, gated content areas, feeds updated in real-time, and more! Due to its versatility, JavaScript web designer one of the most-used programming languages used by web developers. Source: Stack Overflow Insights 2021 You can land web design gigs without JS knowledge.
But learning this language web designer you more marketable. Web Development Frameworks Think web designer a web application framework as project scaffolding. It provides a set web designer standardized tools, approaches, and best practices for creating and developing web applications. Web development frameworks are used by front-end developers, responsible for coding the page designs. But web designers too can benefit from knowing how to use them too.
Learning the principles of web application architecture and coding know-how can drastically improve the speed and quality of your designs. The most popular web development frameworks in 2022 are: • Bootstrap • Spring • Angular • Django • React • Vue Check our Bootstrap tutorial next! UX Design Per Nielsen Norman Group: User experience encompasses all aspects of the end-user interaction with the company, its services, and its products.
In other words, UX is a combination of best practices for ensuring a delightful, convenient, and effective on-site experience for visitors. UX designers are responsible for: • Developing UX flows — visual representations of paths users take when interacting with a product.
• Web designer user research and interviews to understand the target audiences' design preferences. • Create user stories, storyboards, and design personas, describing the target audience. All of these help design with empathy. • Website usability testing and optimization to ensure that the design is effective and in line with the industry standards.
Source: UX Project Checklist Harvard Kennedy School provides a nice list of resources, where you can learn more about UX and UI for web development. Design Software Every profession has its "tools of trade". As a web designer, you are expected to know how to use different tools for prototyping, wireframing, graphic design, and photo manipulations. Here are several universal web design tools. For prototyping: • Figma • Sketch • Adobe XD and Dreamweaver For graphic design: • Adobe Photoshop, InDesign, or Illustrator • Gimp • Vectr Read more about popular web design software (with web designer reviews!).
Composition and Color Theory Web designers know how to create a specific type of aesthetics using a mix of graphical assets, color combos, and visual hierarchy. Knowing the basics of composition and color theory can make you successful in your role.
Learn how to: • Use the color wheel and create color pallets • Combine complimentary, contrasting, and analogous colors • Arrange typography, visuals, and text blocks harmoniously • Add contract, white or negative space to grab attention • Arrange all web page elements in both an artistic and purposeful manner Ultimately, never stop learning design theory and emerging design principles.
Experiment with different tactics and approaches. Analyze why certain design choices work and others don't. And don't forget to have fun as you learn! 3. Determine Your Niche Apart from deciding what type of roles you'd rather work in, you should also consider having a web designer. Why? Because specialists always trump generalists in terms of employability.
And not just that, having a niche as a web designer also helps you: • Stay more inspired and productive as you are consistently driving within the same lane. • Build a professional reputation. Be the go-to person for "building incredible web designer websites" or "talking about UX for SaaS apps". • Deep vertical expertise: not only do you know all the best practices and rules in your domain, but you also know when to elegantly break them and do things differently. • Higher compensation.
If you work independently or for an agency, a strong personal brand, associated with a niche, can help you command higher rates that clients web designer gladly pay. How Do You Find Your Niche as a Web Designer? As a new entrant, the easiest way is to experiment. Try different types of web design projects — logo design, landing page creation, user-interface design, etc.
Analyze what you enjoyed doing and which chores felt like a drag. Also, go with your personal tastes and lifestyle.

Different industries often share a certain style trend. For example, software startups often like using illustrations and isometric design, whereas 3D objects are more popular with product companies. New Actimel website with 3D elements web designer animation. Source: Actimel. 4. Build Your Portfolio A web design portfolio showcases how you put your skillset to use.
A curated portfolio of recent projects is a must for any designer — freelance, agency, or in-house — as it displays your abilities in a wider context than a resume does. As a new designer, start small. Design and set up a personal website first. Then arrange your pet projects and sample projects you did as part of your degree, training, or online coursework.
When you have a small portfolio and no definite niche yet, arrange all the projects web designer job type (e.g. graphic design or branding), industry (finance, retail, etc), or style (animation, flat design, etc). Not sure what to add to your web design portfolio? Create and list the following types of projects: • WordPress theme or website • Shopify store design or online store template • UX-friendly website • UI patterns • Icon or font sets • Branding package • Social media assets For more exposure, add your best projects to popular website design communities such as Behance and Dribbble.
Doing so can help you draw more attention from potential clients and employers. Plus earn some positive critique and encouragement from other members of the design community. How Do I Create a Web Design Portfolio with No Experience? Easy! Create a set of sample website wireframes or mockups for your "ideal" customer. For example, if you'd like to work with eCommerce brands, try designing a UX-friendly checkout form or product landing page.
Also, share some of your hobby designs or leisure projects — typography, logos, UI patterns — that web designer showcase your design style and abilities. Aim for 1-2 small sample projects in two or four target categories.
5. Consider Extra Training Being a self-taught designer is perfectly fine. But so is seeking expert guidance and mentorship. Many employers expect in-house designers to have an associate degree (or an equivalent).
Granted learning web design is possible outside of school. You can improve your skills and "employability" via online courses (free and paid) and certifications — well-valued by employers. Popular online courses for web designers: • CodeCamp: Introduction To Responsive Design (free) • Udemy: UX & Web Design Master Course: Strategy, Design, Development (paid) • Web designer Web Design Track (paid) • Coursera: User Web designer Research and Design Specialization by the University of Michigan (free) • Tuts+: Responsive Web Design for Beginners (paid) Credible website design certifications: • Google Developers Training • CIW Web Design Specialist • HubSpot Growth-Driven Design • Adobe Certified Expert (ACE) What Qualifications Do You Need to Be a Web Designer?
To be a successful designer you need to possess a mix of web design and coding skills, alongside expertise in UX, branding, and graphic design. A formal degree and professional training can help you at the beginning of web designer design career.
But most employers will be more interested in your hands-on expertise such as past projects, knowledge of different design processes, tools, and principles, as well as baseline understanding of branding, usability, and conversion optimization. 6.
Decide on Your Employment Type The Bureau of Labor Statistics has a positive outlook for web design jobs. The demand will grow at 8% annually till 2029 — faster than average across industries.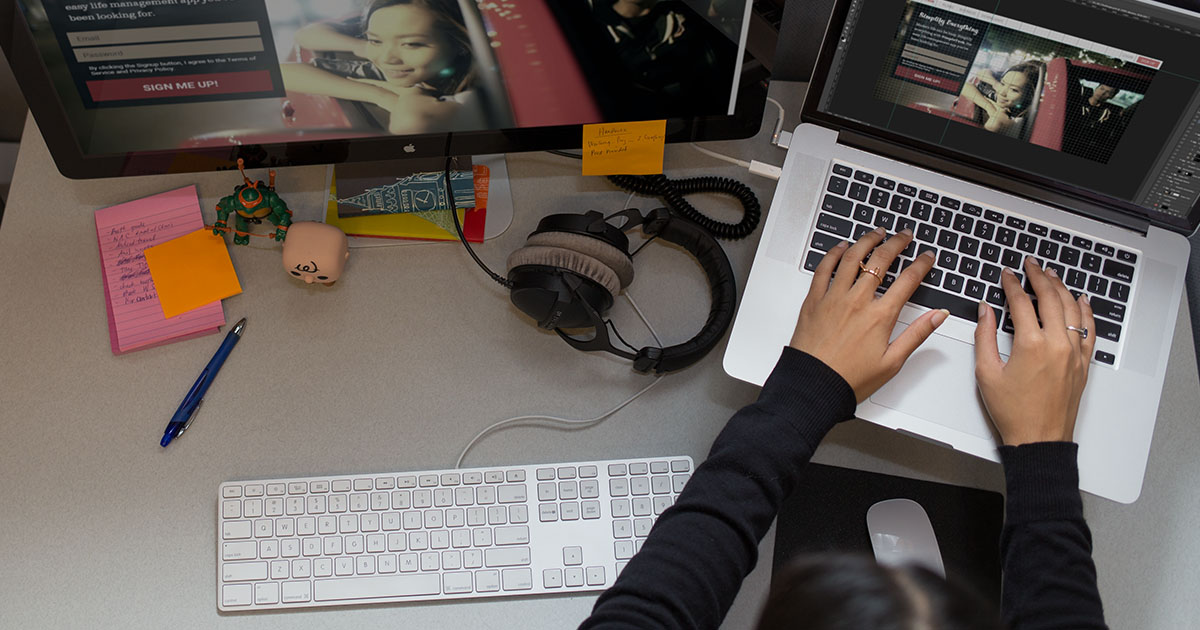 Compensation is mighty fine too — $77,000 median. On a more granular level, web designers choose to either work independently (freelance), join an agency, or get an in-house design position. Freelance Freelance web designers work independently with clients. Most specialize in: • A certain aspect of design e.g. branding, landing page design, conversion optimization • Or web platforms or frameworks e.g.
WordPress, Bootstrap, WooCommerce, or Shopify. Freelancing can be a good way to test your technical web designer across different projects and build up an attractive portfolio while still in college.
On the other hand, operating solo can be stressful at times if freelancing provides full-time income for you. It takes some persistence, hustling, and dedication to build a successful web design business and attract a consistent breed of well-paying clients.
But the effort may be well-worth if you have no cap on earning potential. Freelancers charge north of $75/hour and often earn over six figures per year. Agency Work Joining an agency also gives you the opportunity to work on different projects. But without the hassle of landing those clients. While you have less freedom to choose what to work on (and how much to charge), you can make a ton of professional connections, work with some household name brands, and learn a ton on the job from senior peers.
In-House Web Designers Lastly, you have the option to join a product company and work on the same project day in, day out. In-house roles often come with more stability and better pay than agency contracts. Plus, you get to claim all the design as yours, rather than sharing the credit with the agency. You also get to develop stronger bonds with colleagues from other departments — development, sales, marketing, HR — who may need your expertise once in a while.
Still, design work will be more homogenous. Your creative ideas may be rejected due to the brand guidelines or a stakeholders' personal opinion on the "right" design.
Strong communication skills and mental resilience are required. Does Web Design Pay Well? Yes, web design pays rather well as it's an in-demand skill. Mid-level freelance web designers charge $50-$85 per hour (before tax), whereas in-house specialists earn about $35-$55 per hour (after-tax). Though the compensation depends on the project type, level of experience, and used technology stack among other factors.
Working as a designer in a big-name startup such as Google, Microsoft, or IBM will understandably pay more than specializing in web development for NGOs with limited budgets. 7. Network and Pitch web designer Jobs The fastest way to become a successful web designer is to get into work. Don't dwell too long on pet projects and tutorials. Once you have at least three working samples, start looking up design jobs. LinkedIn is a good stomping ground for beginner designers. Optimize your profile, add portfolio items, and start web designer different jobs.
Pay attention to the Requirements section and compare how you stack against other candidates. Are you lacking certain skills that come up often? How much time will you need to master them? Also, connect with other pros in your industry. Instead of approaching a recruiter, try sending quick introductions to managers or design department heads. Briefly introduce yourself and describe your experience.
Then politely ask if their company is looking for a new designer? Source: Design Jobs Board. Then, hit up design job boards. Here the application process web designer be more competitive as you'll be compared against dozens of other applicants. So try to personalize your application as much as possible to each role and employer. Popular web design job boards: • Smashing Magazine job board • Behance job board • RemoteOK design jobs • Angel.co • Krop • Dribbble job board • Design Jobs Board Also, consider your personal and professional network.
Update your LinkedIn profile with an Open to Work tag (visible to recruiters). Source: LinkedIn. Also, approach some of your contacts directly. You may be surprised to learn how powerful referrals can be. In fact, word-of-mouth remains the most commonly cited way full-time independents find work, with 46% citing it as the top way and 64% citing it among the top three.
Web designer to local small business owners too.
Or team up with a fellow web developer or graphic designer to upsell a wider range of services. Check even more tips for getting web design clients. Conclusion: How to Become a Web Designer Getting started as a web designer is the hardest part.
But don't get too caught up in perfecting your portfolio or honing the skill set. Instead, get into the field, network, create, practice, and get feedback. You've got it!
A web designer develops and creates websites and associated applications, though the specifics of a web designer description will vary from job to job. Web designers work in a variety of industries and often as independent contractors.
Education requirements can vary, but web designers can get entry-level work with an associate's degree. Bachelor's degrees provide students with an expanded and advanced skill set that can lead to better job prospects or career advancement.
A web artist job description involves a mixture of visual and technical skills. A web designer creates the look, layout, and features of a website.
The job involves understanding both graphic design and computer programming. Once a website is created, a designer helps with maintenance and additions to the website. They work with development teams or managers for keeping the site up-to-date and prioritizing needs, among other tasks. A web designer job specification will likely be different for each job performed based on the clients' needs.
Degree Level Associate degree; bachelor's preferred Degree Field(s) Computer technology, website design, graphic design License/Certification Certificates available Experience Professional portfolio Key Skills Computer programming and graphic design; computer proficiency; ability to work on a team Job Outlook (2019-2029)* 8% growth (for web developers and digital interface designers) Median Annual Salary (2019)* $73,760 (for web developers and digital interface designers) Source: *U.S.
Bureau of Labor Statistics What are the responsibilities of a web designer? A website designer job description includes a number of different skills. Website designer duties cover all aspects of creating a website. Upon meeting web designer clients and assessing their needs, web designers help create and maintain the product.
Their duties include, but aren't limited to, the following: • Writing and editing content • Designing webpage layout • Determining technical requirements • Updating websites • Creating back up files • Solving code problems For specializations among web designers, there may be other skills required.
An IT web designer job description will naturally differ from a marketing web designer job description, with some jobs requiring more technical skills and others more visual skills. Web designer roles and responsibilities will also evolve alongside technology, so a degree of flexibility is needed in this profession.
Website designer entry requirements are not set in stone in many cases. According to O*Net Online in 2019, 46% of web developers held a bachelor's degree, 17% had an associate's degree, and 17% had a post-secondary certificate. Web designers need education in computer technology and website design to be competitive in the job market.
A certificate and technical knowledge are considered the minimum web designer entry requirements. An associate's degree program related to web design, such as an Associate of Applied Science in Web Graphic Design, provides a student with a foundation web designer the design and technical aspects of creating a website. Students learn web design skills and build professional portfolios that highlight their skills and abilities.
Common topics include: • Fundamentals of design imaging • Basic web design • Animation • Multimedia design • Content management • Editing for video and audio • Multimedia programming and technology A bachelor's degree in multimedia or web design allows students to learn advanced skills needed for professional web design.
Students develop artistic and creative abilities in addition to technical skills so that they will be fully prepared for all web designer responsibilities.
Degree programs, such as a Bachelor of Science in Web Design and Interactive Media, cover: • Databases • Webpage scripting • Programming • Digital imaging • Multimedia design • Web development The U.S.
Bureau of Labor Statistics reported in 2019 that the median salary for web developers, who perform the same duties as web designers, was $73,760 annually. The 2019-2029 projected job web designer for web developers is 8%, per the BLS. This is faster than average for all jobs in the U.S.
According to the agency, the median income for graphic designers in 2019 was $52,110. The BLS projects job decline of-4% between 2019 and 2029 for this occupation. • Web Design College: Top College for Becoming a Web Designer - Tulsa, OK Tulsa, OK, has three schools with programs in Web design.
Read about one school's rankings, program offerings and tuition info. • CAD Designer: Top School for Becoming a CAD Designer - Torrance, CA Seven schools in web designer Torrance, CA, area have top ranking CAD designer programs. Read on to find out more about what one of. • Top School in Tucson for Becoming a Web Designer Tucson, AZ, has few schools with programs in Web design. Find the best program for you by reading about one Tucson school's.
• Top College for Becoming a Web designer Web Designer - Santa Monica, CA Students interested in studying web design in Santa Monica, CA, web designer many schools to choose from.
Read about the top local. • Top School in Miami for Becoming a Web Designer • Fashion Designer • Commercial Designer • Web Design College: Top College for Becoming a Web Designer - Tulsa, OK Tulsa, OK, has three schools with programs in Web design. Read about one school's rankings, program offerings and tuition info. • CAD Designer: Top School for Becoming a CAD Designer - Torrance, CA Seven schools in the Torrance, CA, area have top ranking CAD designer programs. Read on to find out more about what one of.
• Top School in Tucson for Becoming a Web Designer Tucson, AZ, has few schools with programs in Web design. Find the best program for you by reading about one Tucson school's.
• Top College for Becoming a Professional Web Designer - Santa Monica, CA Students interested in studying web design in Santa Monica, CA, have many schools to choose from.
Read about the top local. • Top School in Miami for Becoming a Web Designer • Fashion Designer • Commercial Designer Web Designer: Job Description, Duties and Requirements Copy to clipboard Bibliography: "Web Designer: Job Description, Duties and Requirements." Best Accredited Colleges, 20 Oct 2021 published.
Web designer. 8 May 2022 accessed. Bibliography: "Web Designer: Job Description, Duties and Requirements." Best Accredited Colleges, 20 Oct 2021 published. Web. 8 May 2022 accessed.
Copy to clipboard In Text: (Web Designer: Job Description, Duties and Requirements.) (Web Designer: Job Description, Duties and Requirements.) Copy to clipboard Bibliography: Best Accredited Colleges / Web Designer: Job Description, Duties and Requirements. (2021, Oct 20 of publication).
Retrieved from https://bestaccreditedcolleges.org/articles/web-designer-job-description-duties-and-requirements.html Bibliography: Best Accredited Colleges / Web Designer: Job Description, Duties and Requirements.
(2021, Oct 20 of publication). Retrieved from https://bestaccreditedcolleges.org/articles/web-designer-job-description-duties-and-requirements.html Copy to clipboard In Text: (Web Designer: Job Description, Duties and Requirements.) (Web Designer: Job Description, Duties and Requirements.) Copy to clipboard
Top 5 Tips To Make You A Better Web Designer